<<< North Wales Coast
Index
Crewe >>>
Service temporarily suspended
<<< North Wales Coast
Index
Crewe >>>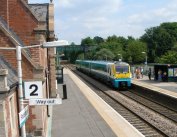 Frodsham Station on 8 June 2013 with 175.113 on a Chester-bound service.
Please note: Helsby Jn is the fringe box between Chester & Warrington PSBs but does not provide data for the NR TD feed, so trains in this area are not currently recorded.
This page contains information made available by Network Rail Infrastructure Limited under license as detailed here.