In the beginning there was the Manchester and Leeds Railway engineered by one George Stephenson which approached Todmorden from the South West via Summit Tunnel, passed through Todmorden in a easterly direction before reaching Hall Royd Junction and Millwood Tunnel. Approaching Todmorden from the North East was the line that created Hall Royd Junction: the line to Copy Pit and Burnley.
Our journey to Copy Pit from the north starts with a collection of photos I have recently acquired. In the first, Stanier 8F 48423 approaches Rose Grove with a train of empty mineral wagons off the Accrington line on 22 July 1968. The line to Padiham and the power station, then an important destination of much of the coal coming over Copy Pit, curves off to the right.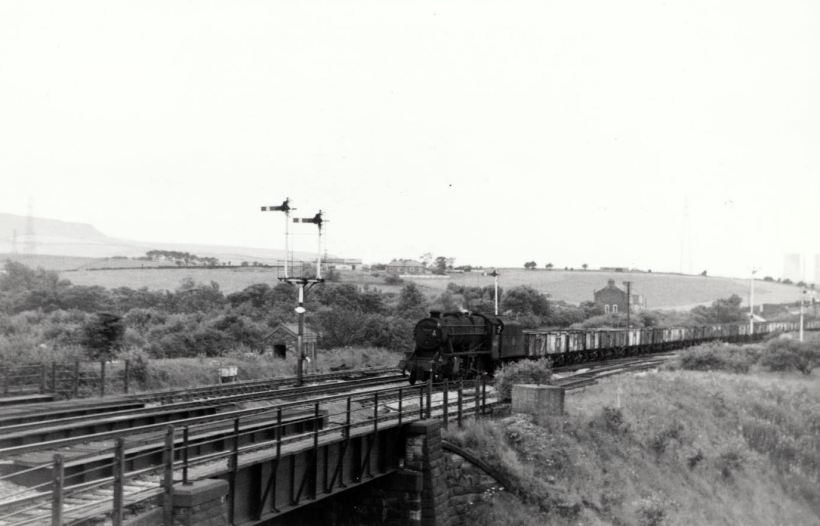 48423 passes the cameraman a few moments later.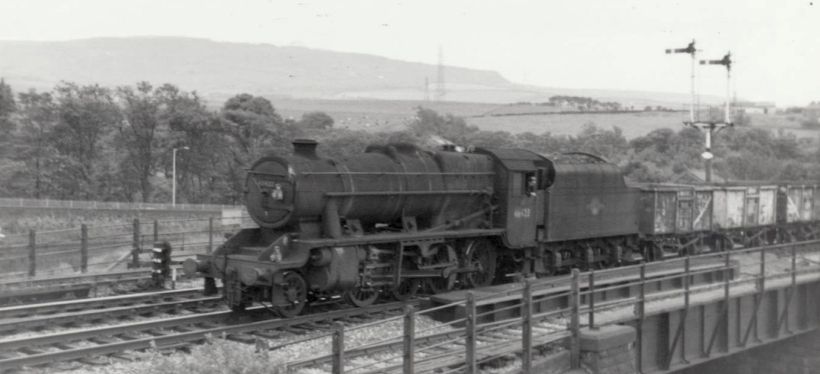 Two views of Stanier 8F departing westwards from Rose Grove with a freight train (6P32) at 13.10 hrs to Wyre Dock, near Fleetwood, on 22 July 1968.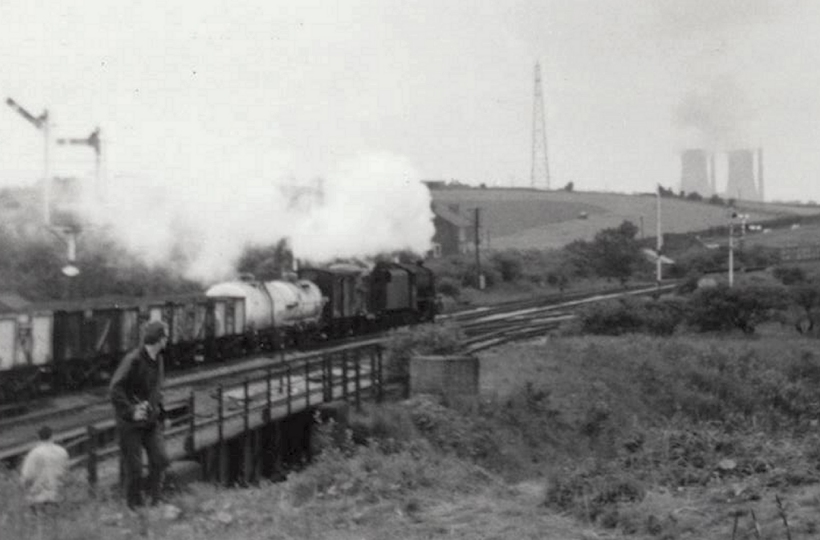 On shed on 22 July 1968 was Stanier 8F 48665, and given that steam was to finish just two weeks later on 4 August, one of the last active locos.
,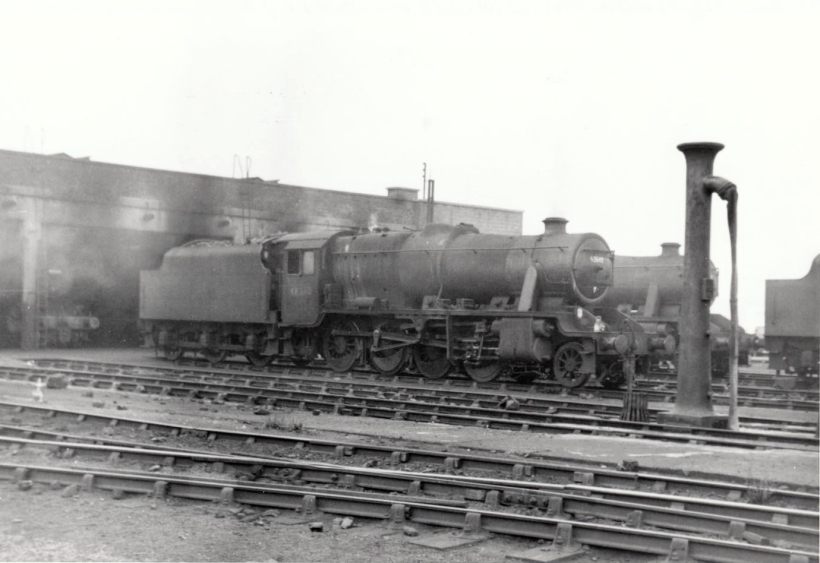 A loco that made to preservation was Stanier Black 5 44806, and here she is seen taking water at Rose Grove on 22 July 1968. She first moved to Carnforth, then the Lakeside Railway, and then when firebox problems forced a retirement, she moved to Steamport Southport. At Carnforth she was painted in BR express green, a livery she never actually carried in BR service. She was subsequently painted in an unlined black livery with an early BR emblem at Southport.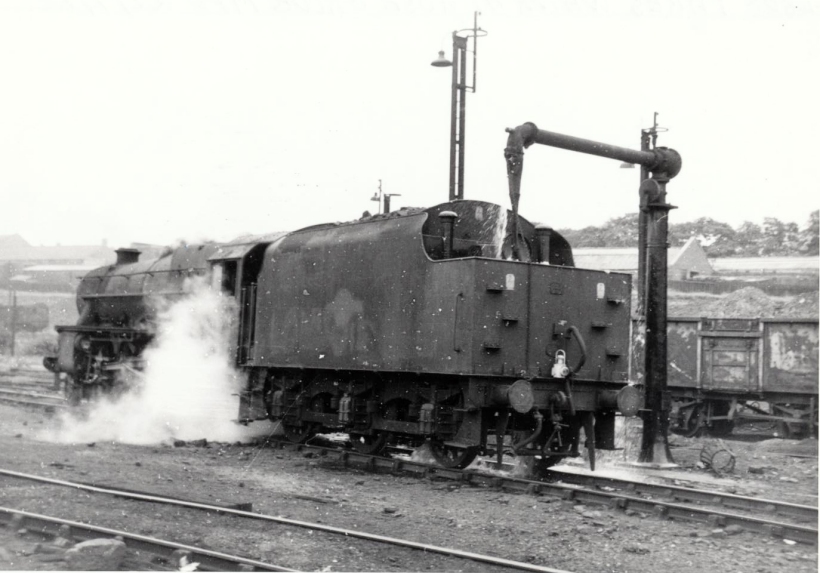 Moving further eastwards, the full extent of Rose Grove Motive Power Depot can be seen in this view taken on 1 July 1967.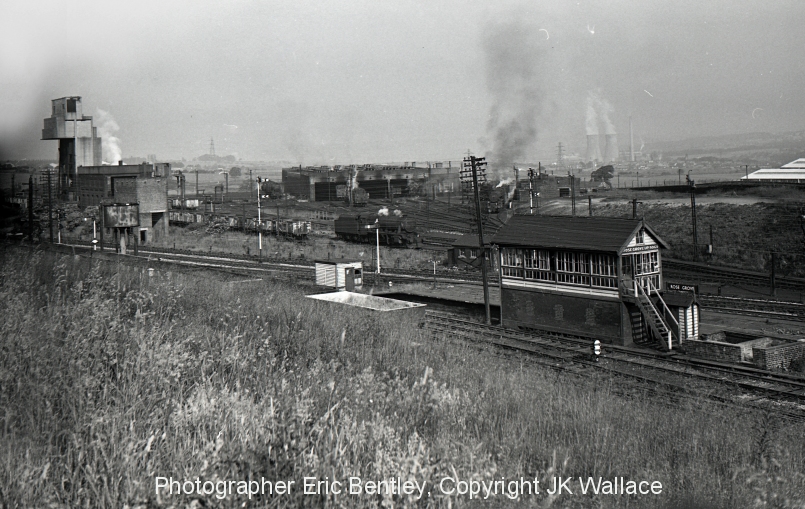 Photographer Eric Bentley, copyright JK Wallace
Immediately to the east of Rose Grove shed and station was Gannow Junction in Burnley; the Copy Pit line took off in a south easterly direction, whilst the route to Colne (and originally Skipton) headed in a north easterly direction..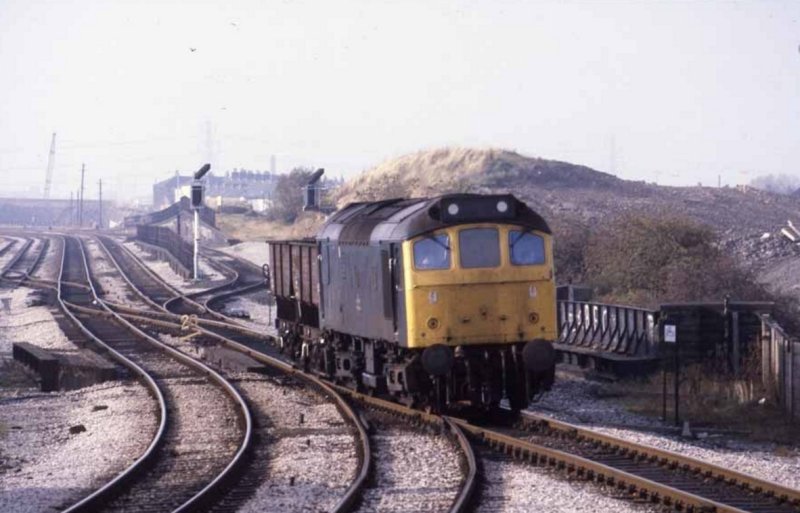 Copyright J K Wallace, all rights reserved
Class 25 25277 heads two loaded coal hoppers at Gannow Junction, taking the line to Colne as it heads for the coal depot at Burnley Central on 29 October 1982. The photo is taken from the BR replacement signal box. This is the simplified layout, with the single lead towards Colne, which was implemented as art of the Preston Power Signal Box scheme that was implemented in October 1973.

Photograph & copyright: JK Wallace
The BR Gannow Junction illuminated diagram came up for auction in the GNR Auctions sale of 6 April 2019. I am grateful to Chris Littleworth who has provided the following notes.
"It is from the later 1960s BR box, not the L&Y one. It has been heavily (and not very tidily – or prettily) amended, and now shows the layout just on the transition to Preston PSB in 1973, and will include the "stage work" (like the alteration to a single-lead junction) in preparation for that.
The process for the LMR illuminated diagrams was different to the paper ones, as when an alteration was made, they altered the linen b&w master, ran off a new print and replaced the one in the box. In the case of the illuminated ones the master was sent to London where it was printed on to a stout plastic film, "coloured up" and then glued to a hard board; the holes were then drilled for the TC lamps etc. and the electrics installed before the diagram was fitted in the box. Because this process was much more time-consuming (and presumably expensive) they didn't change the diagram every time an alteration was made; because it was printed on plastic film the detail could be relatively easily scratched off and altered in the box – a nice jolly for the draughtsmen who could therefore (like their earlier forebears) get out of the office for the duration!
Very occasionally, you do, however, find a new plastic film glued on top of an earlier one, but that doesn't seem to have happened here."
Chris has provided a diagram for how the box would have been when it was commissioned in August 1964. This can be compared with the 1963 diagram in 'Signal Boxes on Lancashire & Yorkshire Lines; North East Lancashire' which shows the final arrangement for the original LYR 1900 box.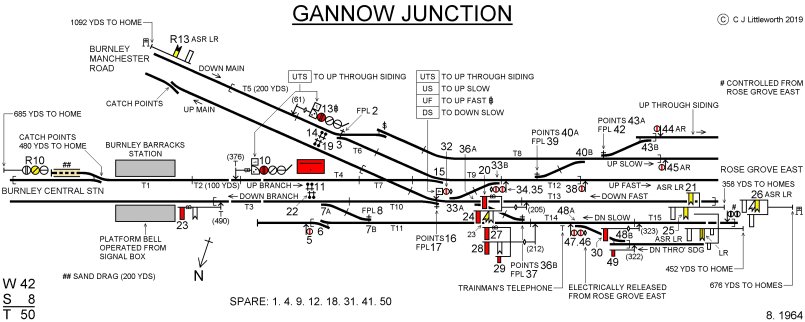 Photographer Eric Bentley, copyright JK Wallace
LMS (BR) Stanier Jubilee 45647 'Sturdee' hauling 1X37 Concrete North Ltd's return excursion Blackpool North – Leeds City leaving Gannow Junction (Burnley) after attaching banking loco at 21.00 hours in Saturday 4 June 1966. A study of modern Google photography suggests that this is the Accrington Road bridge, but confirmation would be welcomed.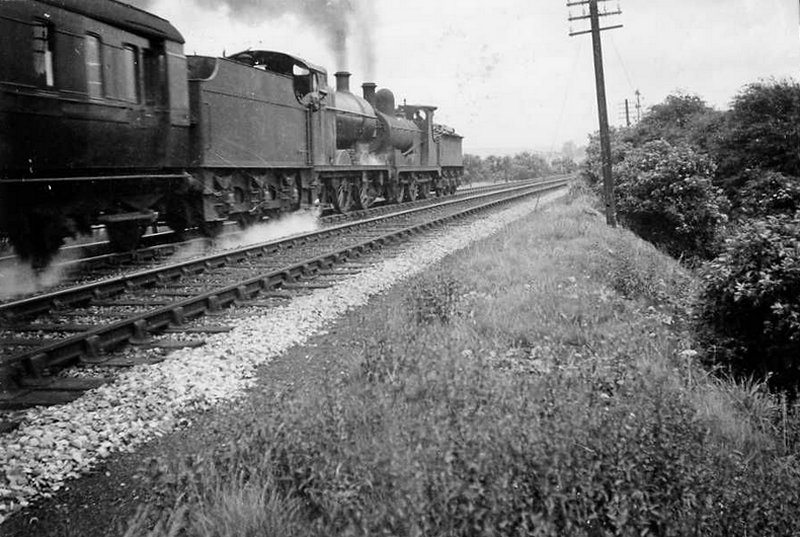 Photographer Arthur R Wilson, J K Wallace collection.
Midland 3F and Lanky 0-6-0s working a returning excursion from Blackpool to Yorkshire passing Towneley on the Copy Pit line c. 1937. Note home & distant signals to the right of the telegraph poles.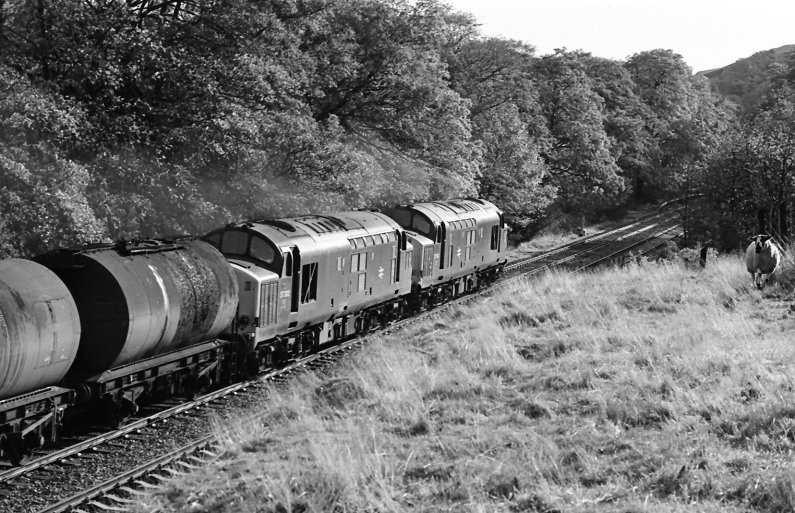 Copyright: J K Wallace, all rights reserved 2013
A pair of class 37s - 37153 and 37202 - head the Preston Dock tanks on 3 July 1982 heading out of Towneley.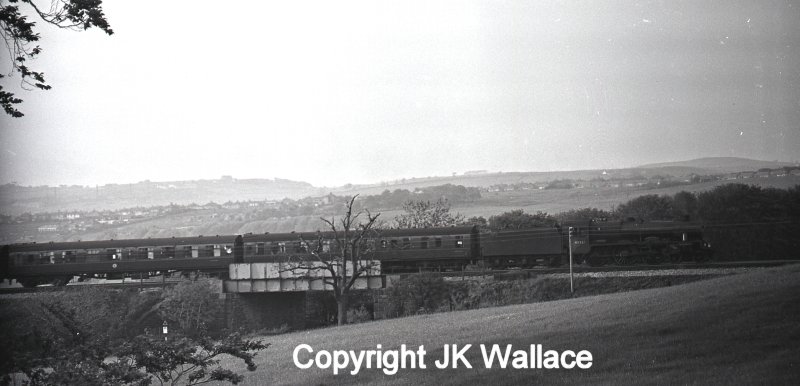 Photographer Eric Bentley, copyright JK Wallace
LMS (BR) Stanier Jubilee 45581 'Bihar & Orissa' climbing out of Burnley towards Copy Pit with 1X32 return advertised execursion Blackpool North – Leeds City at 19.21 Whit Monday 30 May 1966. It is crossing A646 road bridge.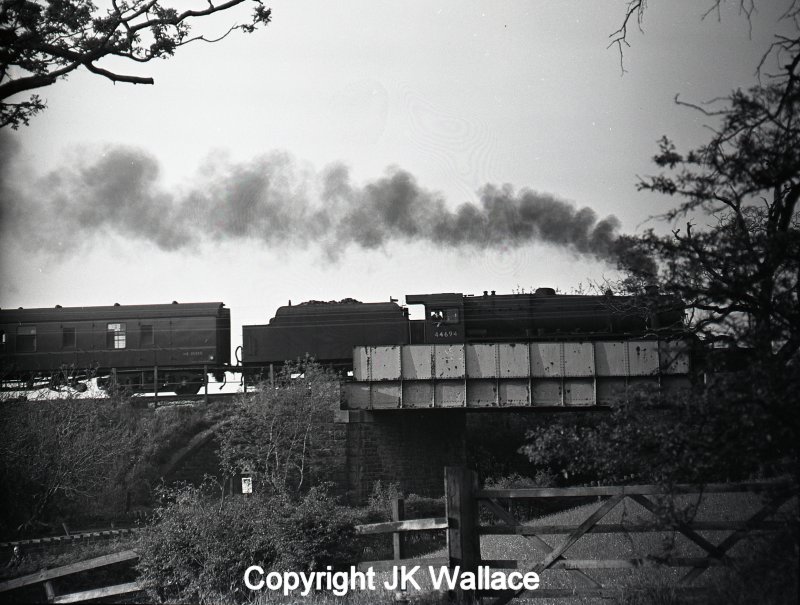 Photographer Eric Bentley, copyright JK Wallace
Stanier Black 5 44694 climbing out of Burnley to Copy Pit with 1X31 return advertised excursion Blackpool North – Bradford Exchange on Whit Monday at 19.10 30 May 1966.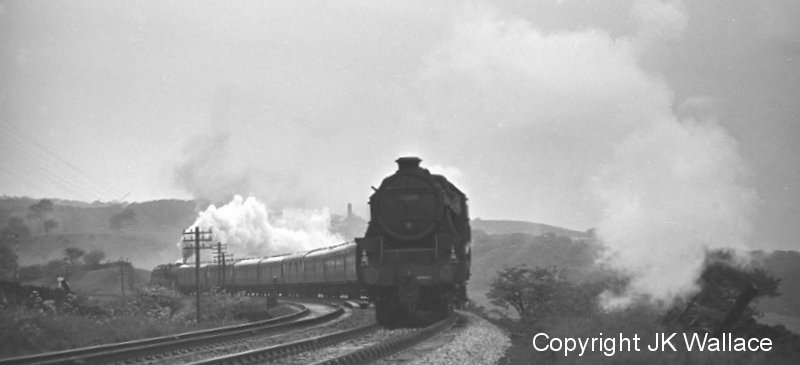 Photographer Eric Bentley, copyright JK Wallace
Excursion1X43 Bradford Summer Saturday return excursion Southport – Bradford Exchange with 45208 climbing out of Burnley 19.55 on Saturday 4 June 1966. By this time the Preston-Southport line was closed, and therefore the most likely routing would have been via the Burscough Bridge - North curve, and so onto Preston. The girders of the A646 bridge can be seen to the left of the loco.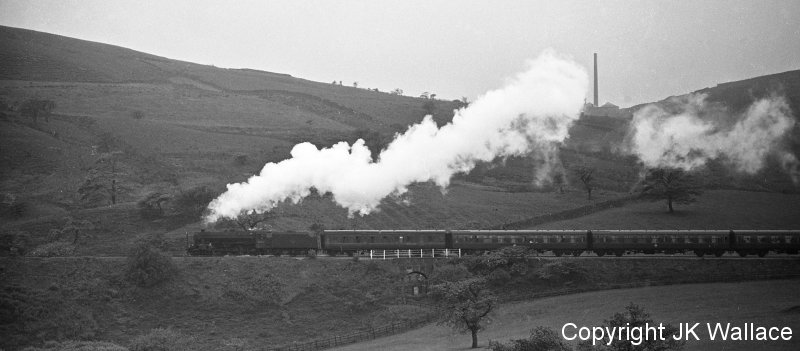 Photographer Eric Bentley, copyright JK Wallace
Excursion 1X38 Ravensthorpe Central WMC return excursion Blackpool North – Dewsbury Well Rd climbing out of Burnley 20.05 on Saturday 4 June 1966.