Standing next to David was Mike Taylor, for whom we are grateful for this shot of the train stepping out onto the Up East Lancs.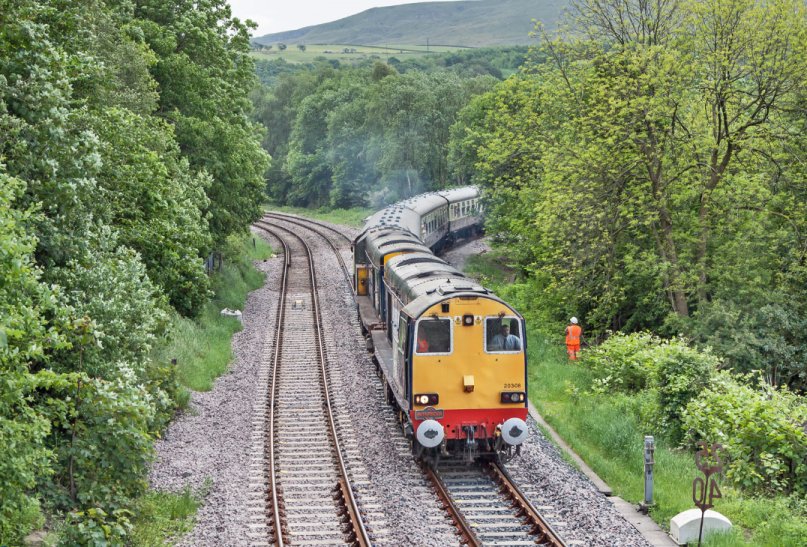 Copyright: Mike Taylor c. 2014, All rights reserved
Notes from the day
My own journey to join the Topper Chopper wasn't without its own excitements. I arrived at Berkhamsted in good time for the Southern Trains service to Milton Keynes at 07.31. The screen was showing 'On Time', so I popped out to get a snap of the station building. On my return to Platform 3, I checked the screen to see 'Service cancelled'. The information now made available to passengers has to be commended as very quickly it was updated to say a person had been struck by the train at Clapham Junction. I was due to get the 08.06 from Milton Keynes and did consider driving to Milton Keynes but didn't know what the car parking was like.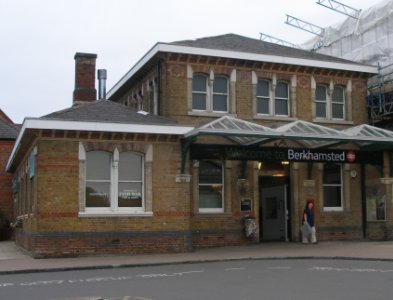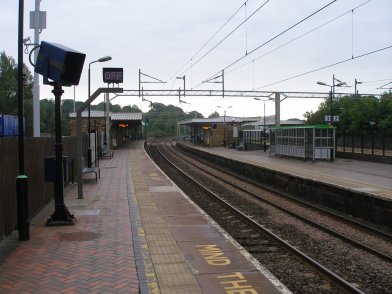 So I called National Train Enquiries. This really did work as advertised. Saheed quickly identified the errant 07.31, and then looked at trains arriving Crewe before 10.0. Very quickly he'd identified the 08.41 Milton Keynes - Chester, first stop Crewe as the obvious alternative. In due course the Voyager purred into Platform 6 at Milton Keynes 'right time'. I have recently acquired a smartphone but not given it much attention, but this was the first time I'd travelled with it. Having discovered I was close enough to First Class to received the complimentary Wi-Fi, I had soon navigated my way to Realtime Trains and was monitoring the progress of the train.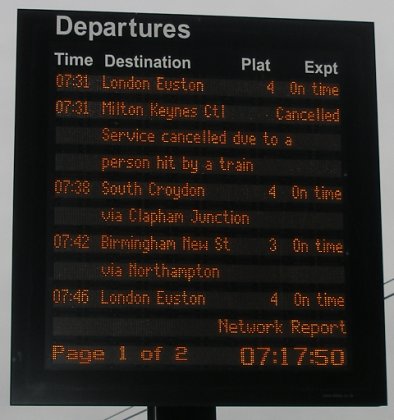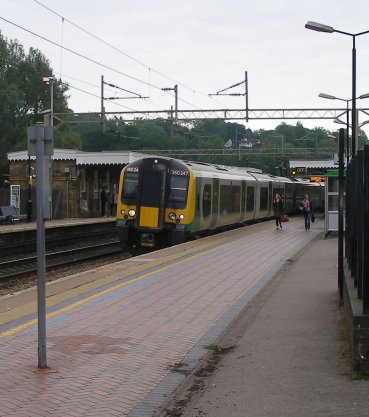 This is a remarkably facility as it appears to be reporting on train passing times roughly 4 minutes after the event. The locations being monitored is impressive, so there's a reporting point roughly every two minutes. We were motoring...and then we stopped outside Litchfield. The train captain very quickly informed that there was a signalling problem, and that S&T staff were in attendance. Eventually we under way again but Realtime Trains was now projecting a 10.02 arrival at Crewe...the time the Topper Chopper was due out.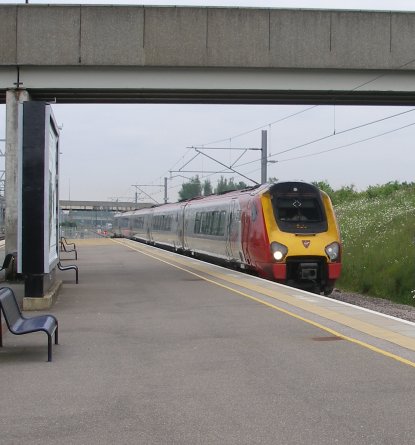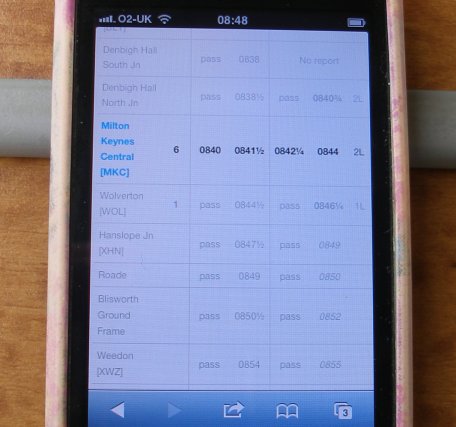 Pathfinders now provide a mobile number for just this situation, so as we sped through Stafford I dialled the number. The lady who answered said not to worry as the ECS was late off the depot, and that with a bit of luck if they could hold the departure by a minute or two it should all work, and she would tell the guard.
But then the delayed Chester is then held outside Crewe awaiting a platform. It eventually gets in, and thankfully it was just a cross-platform move. The guard was standing by the passageway between the two platforms and I was able to identify myself as the passenger off the delayed Chester. Literally 60 seconds later we were on the move.
It was only next day playing the YouTobe videos did it become apparent that the Chester was held to allow the Topper Chooper ECS cross in front of it to get to Platform 6, whilst the Chester needed to get to 11.
The trip itself was superbly well-organised. The stock was clean and well maintained. The 'Frying Scotsman' lads in the catering car did a sterling job. A good selection of hot food served throughout the entire journey. The Souvenir Guide was well-researched and very informative.
My prime interest was the approaches to Tod, and the curve. I was able to run a video from Gauxholme all the way through to Rose Grove, as I was particularly interested to see where the new signals were, and also 'catch'the new footbridge at Dobroyd Crossing. The signal locations are particularly interesting as the signal for the Junction is some distance from Todmorden Station. Presumably this is the response to possibly SPADs, but it does mean that if the curve is occupied, the down train will be held some distance from Todmorden Station and won't be able to carry out any station duties, so extending any delays.
I took a view on the kinematic envelope and decided that a small camera-print was desirable, so hence the less that optimum recording. However even with a 'minimal' exposure out of the top-light, the camera was quiet forcibly struck by the trackside botanicals at four locations.
Horrocksford, Bolton, Kirkby and Dallam all came and went, and finally it was time to same goodbye to my travelling companion Bob.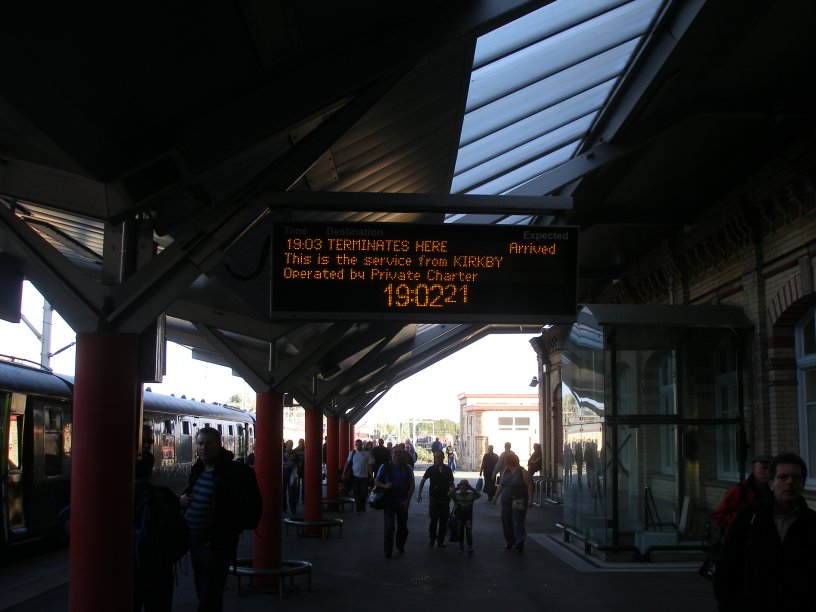 Crewe in the early evening is very interesting. You cannot buy a paper or magazine, and the food in the buffet will not prolong active life. Meanwhile it was all kicking off on Platform 4. There had obviously been a social event as a large number of people were gathering at the station and heading for the single car 153 for Derby. Initially the first comers took their seats, but it wasn't long before it was a tube stile crush within...and the people kept coming, including a couple with bikes. It was obvious to all that meltdown was fast approaching, and it wasn't long before six policemen and three station staff had arrived to deal with some very angry non-travelling passengers. A fair number abandoned the train and set off to get taxis.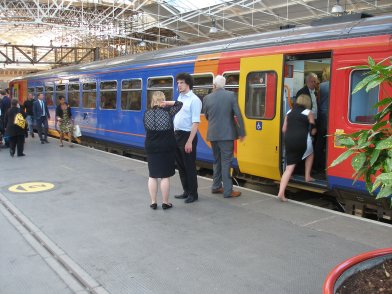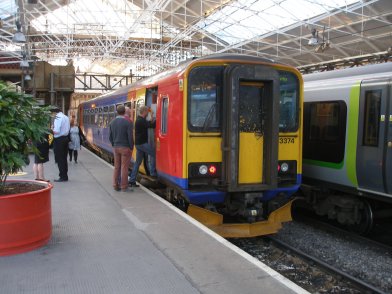 In due course my Virgin Pendolino arrived and I found my reserved seat D5. This was the most disappointing aspect of the whole day. This is a windowless seat in an cabin interior which I do not like very much anyway. Who would design - or commission - an express train without windows? I suspect someone who does all his business by an Internet-link from Antigua or wherever... By the way Richard, the 'shop' closed well before Milton Keynes on a service terminating at Euston. Just thought you ought to know.
Once the train got underway I redeployed to a window seat. I was too far from First Class and decided Wi-Fi at £4 an hour was too pricy so went for O2's excuse for 3G coverage. Why do the motorways have immaculate 3G coverage but the Mobile Network Operators seemed to have not thought about the captive rail passenger market?
There was a long wait at Crewe, and again at Milton Keynes, but at least I'd be able to park the car close to the exit from Platform 4. Also worthy of note is London Midland's parking arrangements. You can do it on line before you travel, and it means you can park the car without having to worry about buying a ticket, particularly if you are running late.
So a very enjoyable day and a big 'thank you' to Richard and his team for keeping the faith and making it all happen.
And finally, a couple of shots of the 'lads' at Rainford...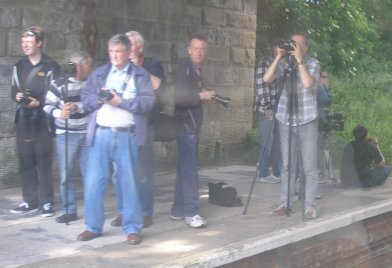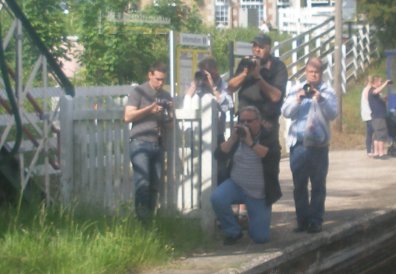 Next Passenger Train on Todmorden Curve:
UK Railtours are promoting The Natterjack on Thursday 18 September 2014. The route is London Euston - Watford Junction - Stafford - Farrindon Junction - Blackburn - Accrington - Rose Grove - Stansfield Hall Junction - Todmorden Viaduct Junction - Manchester Victoria - Southport.
Whether via Daisy Hill or Bolton to Wigan Wallgate is not known, although Daisy Hill might be an interesting change as most Railtours favour Bolton. Either route will involve Crow Nest Junction, once an awesome junction with tracks and cross-overs a go-go, and now just two points and a switched diamond!
Whilst the Tod curve has been traversed in one direction, and the Kirkby terminators are making use of the Todmorden end, there is still an outstanding issue with the interlocking which only permits movements in the Down direction. One would like to think this can be resolved before September.
Whilst Southport was a lesser location in the Lanky scheme of things, with Liverpool to the south and Preston and Blackpool to the north, Southport locos had a daily working to York via Manchester and Todmorden so this is a very acceptable routing. It will be a reminder of the days that Club Cars carried home the executive classes before WW2. Post War the brand-new but unwanted Coronation Scot vehicles with their enhanced fittings in articulated pairs were lapped up by the Central Division. Then in 1963 it was all thrown away and 3-car Class 110s set the tone for the next 50-years.
And if toads don't float your boat, there's always the red squirrels or even the potted shrimps... Or perhaps a visit to railway signal manufacturer Unipart Dorman in Wennington Road.