Todmorden was deceptive. As a teenage visitor to the town in the sixties it looked like a two platform station with a viaduct, and whenever we visited - usually mid-morning having driven over from Southport - there didn't seem to be much railway activity.
Although Todmorden was on a secondary main line, there were two important traffic destinations for westbound traffic originating in Yorkshire.
The most obvious was coal heading for East Lancashire. According to Michael Rhodes in 'The Illustrated history of the British Marshalling Yard', of the 77 trains leaving Healey Mills yard 31 were routed via the ex-L&NWR route through Huddersfield and Standedge, whilst 30 were destined for Hall Royd Junction and Todmorden, where the flow was split. The book records 9 heading through Todmorden Station bound for Rochdale and Manchester, and 17 went via Copy Pit to Burnley and Rose Grove.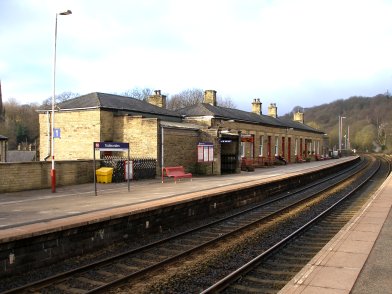 Copyright: J K Wallace, all rights reserved 2013
It was these trains that required banking, and in more recent years Crabs, WDs and latterly Stanier 8Fs being sent over each morning from Rose Grove to perform these key duties. For the record, four trains did not seem to get past Hebden Bridge, and rest headed north towards Bradford and Leeds.
In the opposite direction 13 trains arrived via Copy Pit and 12 via Rochdate; and a further 2 swelled the total west of Hebden Bridge to give a total of 27. Coming off the Standedge route were 29 trains, so giving a feel for the relative importance of the upper Calder Valley in the mid-60s.
An often photographed activity was western-bound coal trains headed by Jubilees. Paul Shackcloth's 'Newton Heath's Engines at Work 19481968' is highly recommended, recording some of Hall Royd's traffic, and including Jubilee's on freight hauls. One of the workings so recorded was the 6.15 a.m. (Saturday's only) Manchester Victoria to Bradford Exchange passenger, the loco returning with the Mytholmroyd-Moston Sidings (just east of Newton Heath) coal train. Paul records 45710 'Irresistible' in August 1960 and 45623 'Palestine' in December 1960 passing Todmorden and Hall Royd respectively on this working.
There is one other celebrity freight hauler to be noted. On 8 May 1966 a loco that had been ear-marked for the National Collection set off for Summit Tunnel and Hall Royd Junction with a Brewery Sidings - Tees Yard freight but now was making its last run in revenue-earning service. On page 129 of 'Newton Heath's Engines at Work 1948-1968' all is revealed as a dirty and unloved 70000, once the much acclaimed 'Britannia', sets off from Rochdale bound for Hall Royd and points east.
The other flow was more seasonal but was the one frequently photographed. Summer Saturday extras headed from Yorkshire for the Lancashire coast. Hall Royd was the point at which their route to the seaside was determined. Blackpool trains would most commonly go via Copy Pit, Rose Grove and Preston, but they could also go through Todmorden and Rochdale, and then turn off the main line at Castleton and go via Bury, where they could either go via Bolton to Preston or head north to Accrington and then rejoin the route from Rose Grove.
Southport was just as varied. Trains could also go via Copy Pit and Rose Grove, and then join the Southport-Preston line at Todd Lane Junction; they could go via Bury, Bolton and Wigan, or go via Manchester and so on to Wigan and the coast. Norman Sutcliffe recalls he Chester as another possible destination in the early 60s.
Copyright: J K Wallace, all rights reserved 2013 (E Sutcliffe collection).
A 1963 Sunday School Special arrives at Todmorden (1Z20), thought to be Southport-bound. Norman Sutcliffe recalls catching this train - or one very like it - noting that for his trip to the seaside the ECS was late arriving from Newton Heath, and the excursionists had to wait for the train to be reversed on the triangle. Norman's father, Jack, has provided us with a reminder of what journey's end looked like at Southport Chapel Street station.
Copyright: J K Wallace, all rights reserved 2013
The end of the Platform 1 looking towards Leeds and Viaduct on 19 April 2013. This is already a historic view as a signal and cross-over have now been added at this point.
Copyright: J K Wallace, all rights reserved 2013
4 October 1984 and a two-car Class 108 crosses the viaduct slowing for its stop at Todmorden Station Platform 1 with a service bound for Manchester Victoria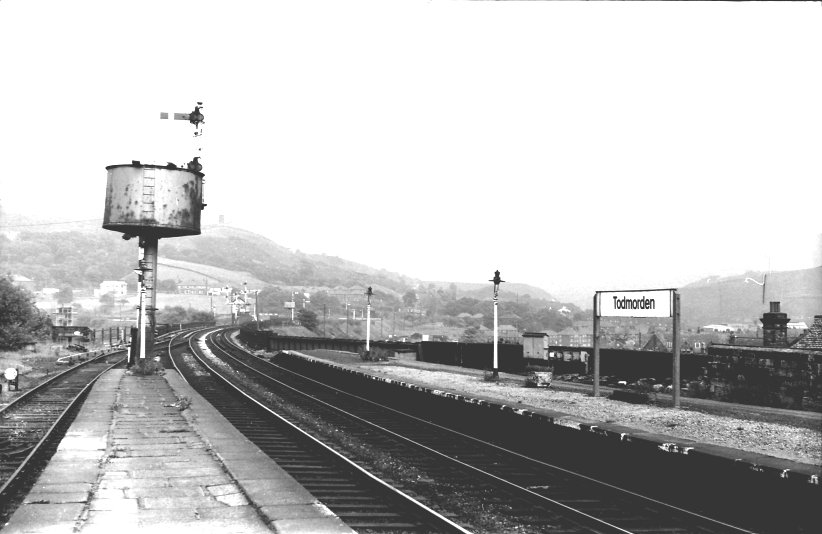 Copyright: J K Wallace, all rights reserved 2013
This 1969 photograph shows the bay platform and water tank have been removed.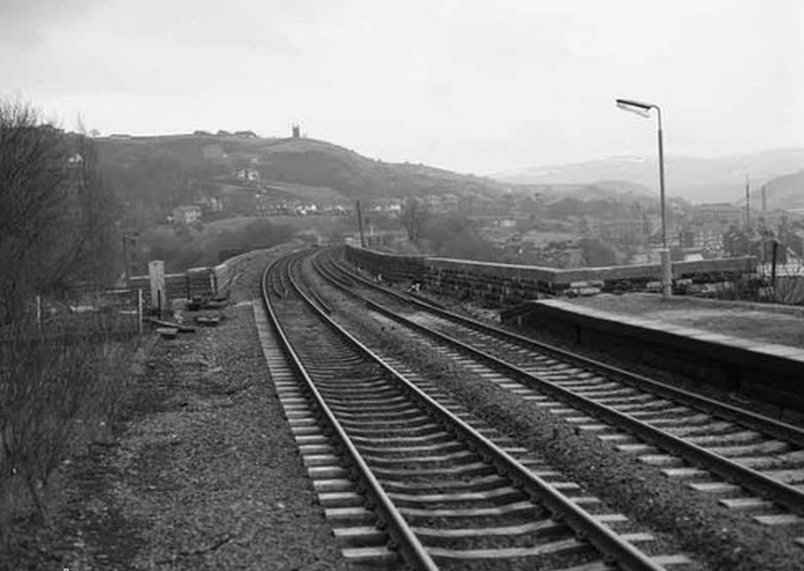 Copyright J.K. Wallace 2013, all rights reserved.
This February 1980 view shows that the bridge girders forming the bay platform have been removed and stone walling now fills the resulting gap.
New crossover installed at the eastern end of Todmorden Station as at 22 March 2014.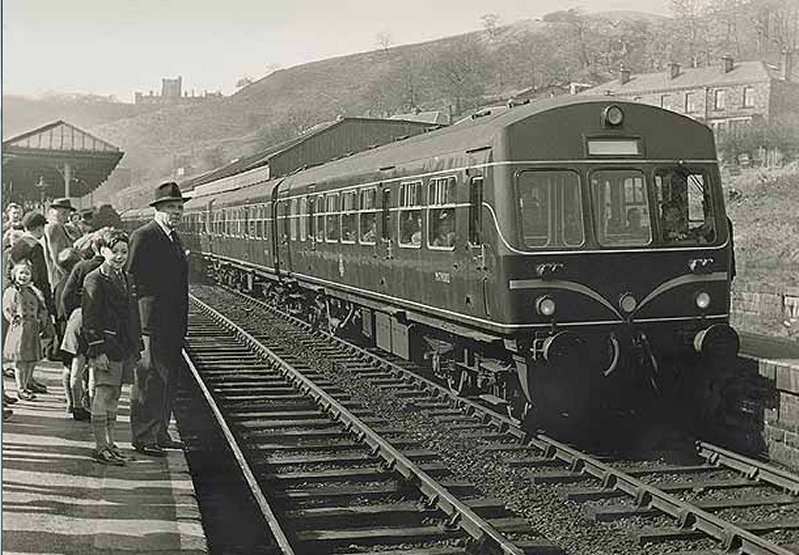 Image courtesy of the Roger Birch Collection
An Early Metro-Cammell unit calls at Todmorden on a demonstration run in the late fifties.
Photo P. Eckersley, Copyright: J K Wallace, all rights reserved 2013
Black 5 45004 is seen at Todmorden Platform 2 with returning excursion 1N85. The note on the photo says it is 1966; and this would make the two blue/grey liveried coaches behind the loco early examples. By this time, Beeching had worked his magic on the excursion traffic, and the number of such services had been greatly curtailed in the period 1964 - 1966. Down at the coast - the normal destination for such services - some of the carriage storage sidings and excursion platforms had already been removed. In the early 60s the sidings at Southport on a summer weekend would be full by mid-day, but by the time this photo was taken this might have been the only excursion train of the day to make it to the resort. Note that the water tank has already been de-commissioned with the bag removed, but that the station canopies are still intact on both platforms.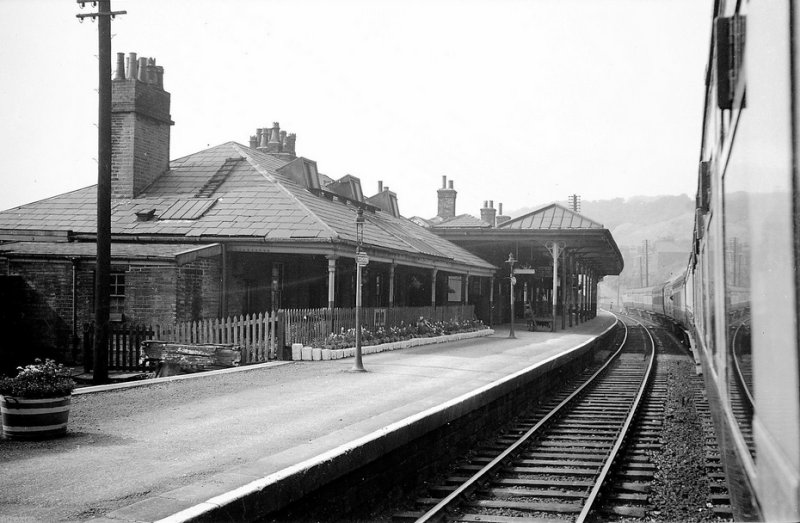 Copyright J K Wallace c. 2014, all rights reserved
Todmorden Station Platform 1 in August 1955 taken from a train standing at Platform 2, and showing the original platform buildings and canopy. There are signs of slow decline with slates slipping on the station master's quarters and the buffer stop looks like the timbers need renewing. However the flower bed looks well attended. The two large groups of chimneys on the house are remarkable, and suggest that the coal consumption in the winter would have been substantial, such as to raise the question of how it might would have been delivered. Could a coal wagon have been 'spotted' at the end of the bay to ease delivery, or was a boy dispatched to the goods yard at the far end of the platform with a barrow? The bay is only really long enough for the Blackburn locals + engine, so placing a wagon in it make it all a tight fit. The train itself seems to be ex-LMS vehicles in the cream and carmine livery, which is right for the date.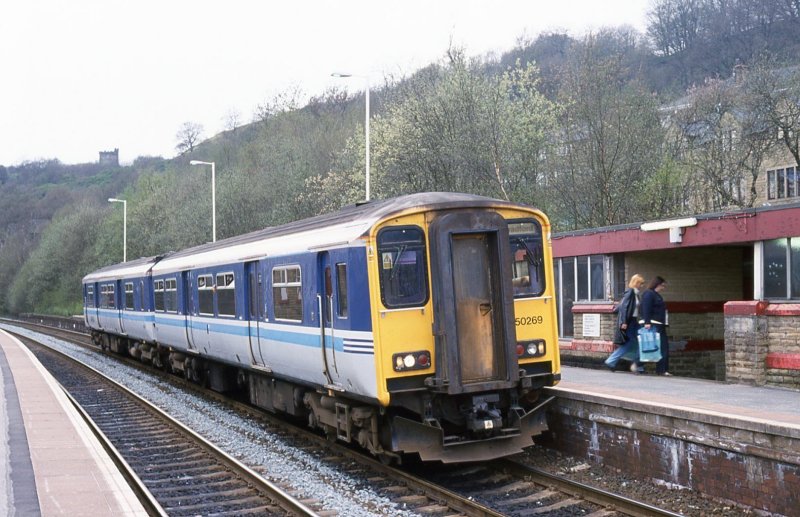 Copyright J K Wallace c. 2016, all rights reserved
2-car Sprinter DMU 150269 calls at Todmorden in April 2001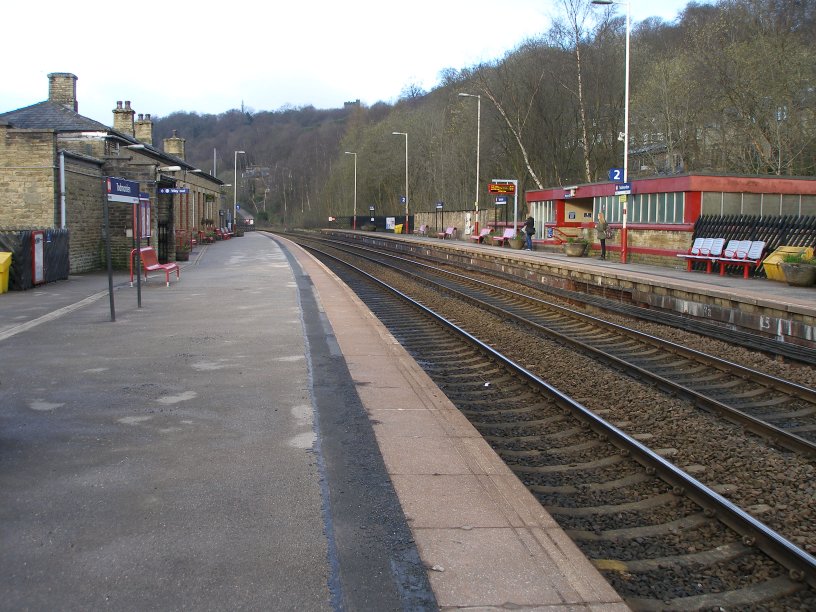 Copyright J K Wallace c. 2013, all rights reserved
Todmorden Platform 1 looking towards Manchester on 19 April 2013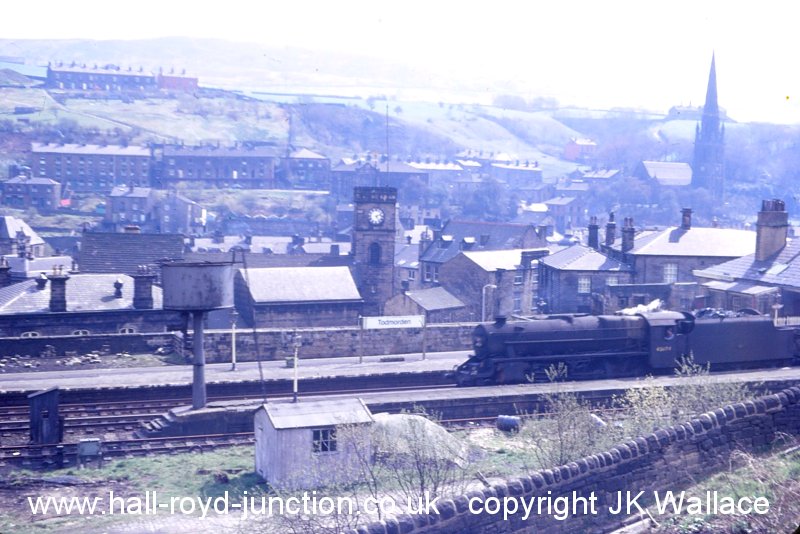 This 1968 shot was taken in the last year of steam on British Rail and shows Black 5 in the station on its way eastwards.
Click here for more photographs of Todmorden Station
And finally, a wonderful shot from the camera of Jack Sutcliffe to remind us of what it was all about. The half-day Sunday School excursion from Todmorden has now disgourged its passengers at Southport Chapel Street and the Jubilee is now setting back to Derby Road Motive Power Depot to be turned before returning to Todmorden in the early evening. Norman Sutcliffe recalls the family took two excursions during this period, the other going to Chester. Although Normal feels this was 1963, the entry in the family photo album suggests 1962.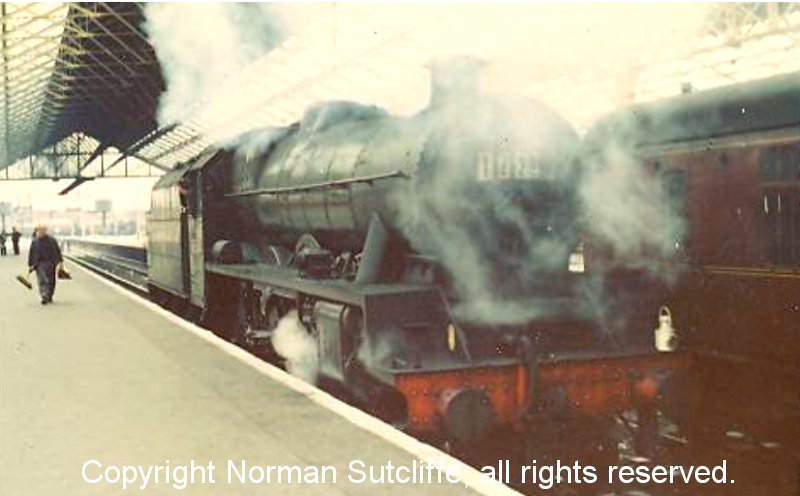 Photographer Jack Sutcliffe; Copyright Norman Sutcliffe; All rights reserved.