Some three years into the DCC game I have been lucky in that all the decoders I have bought, after a bit of swapping around, have found a loco that suits them. But the inadvertent acquisition of a 0.5 Amp chip brought about the realisation that I had no idea what the stall current was for the remaining unchipped locos, or indeed, how to find what is was.
Essentially the chip being installed should have a higher rating than the locos stall current. So I have stumped up the princely sum of £4.08 for a digital ammeter off eBay.
The test is easily completed. Using a DC controller (I still have one for the workbench), clip one lead to a rail on the test track. Plug the leads into the ammeter as shown in the booklet accompanying the ammeter, and attach the other power lead from the controller to the red lead. Place the loco on the test track, turn the controller on, and place the black probe against the other rail (out of sight to the right in the photo below).
The loco will run, and then is pressed down on the track so that it's wheels stop turning briefly. This does need to literally be brief, as if held too long, there is a risk of burning the motor out.
The Bachmann 08 in the photo is actually running, having arrived at the green crocodile clip. With its wheels slipping, it is drawing 0.22 Amps as shown on the display.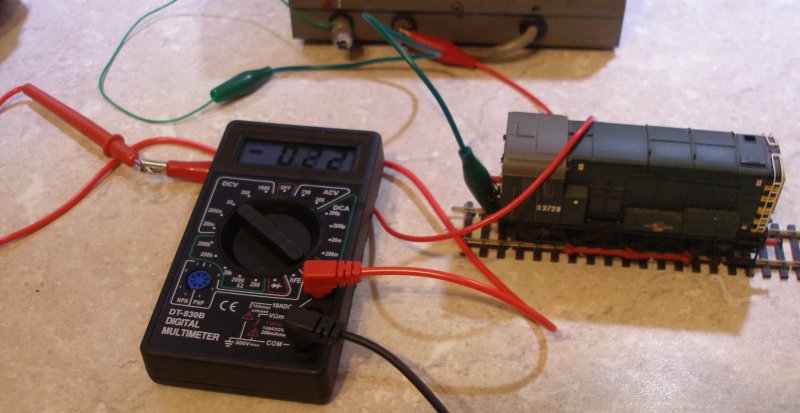 The 'stall current' is the value displayed on the ammeter at the point the wheels stop turning. Here is a selection of results for some common locos that I have obtained from my own testing: