<<< Restoration of a DJH WD 2-8-0
Building a Sutherland Models LMS (L&YR) 7F 0-8-0 Large Goods loco (Teddy Bear)

Strict Discipline
The key to building a layout of a specific prototype is to select a location and period and then stick to it rigidly - or not!
My 'location' is Hall Royd Junction of the ex-Lancashire & Yorkshire Calder Valley Main Line sometime in the Spring of 1966.
Four events have contributed to the first wavering to this strict approach. Joining the Lancashire & Yorkshire Railway Society; having the opportunity to study the L&YR-based 'Calderwood' layout closely at Alexander Palace in early 2015; the purchase of Barry Lane's 'L&YR Locomotives' book and an un-built Sutherland Models LMS (L&YR) 7F 0-8-0 Large Goods loco turning up on eBay....
The L&YRS membership are generally committed to building models of L&YR prototypes and there is an infectious quality to their meetings; 'Calderwood' features both large and small boilers examples of the 0-8-0s staggering from loop-to-loop and I thought they looked rather fun models; and I have never seen a Sutherland Model before, and thought this might be rare opportunity to acquire one.
The back of the Sutherland Model's box is stamped '5 Jun 1977'. Details of the build of this kit are here.
Which loco?
Barry Lane records six large boilered superheated locos and five saturated types receiving their BR numbers, viz:
Side-windowed cab: 52857 - withdrawn December 1951
Original Cab (superheated): 52945 (May 1951); 52910 (September 1950); 52906 (September 1051); 52870 (September 1951); 52856 (May 1950)
Original Cab (saturated): 52782 (August 1950), 52821 (March 1949), 52822 (October 1950), 52825 (March 1950), 52831 (February 1951) and 52839 (October 1949)
Original Cab (rebuilt, saturated): 52782 (August 1950),
Of this latter group, 52945 is recorded as having a LNWR tender.
I remain deeply grateful to Ben Brooksbank who covered much of the UK in the late 40s and early 50s, including a number of key LYR locations. For our purposes Ben visited Bank Hall MPD in 1948 and photographed 12782 twice.

Copyright Ben Brooksbank and licensed for reuse under this Creative Commons Licence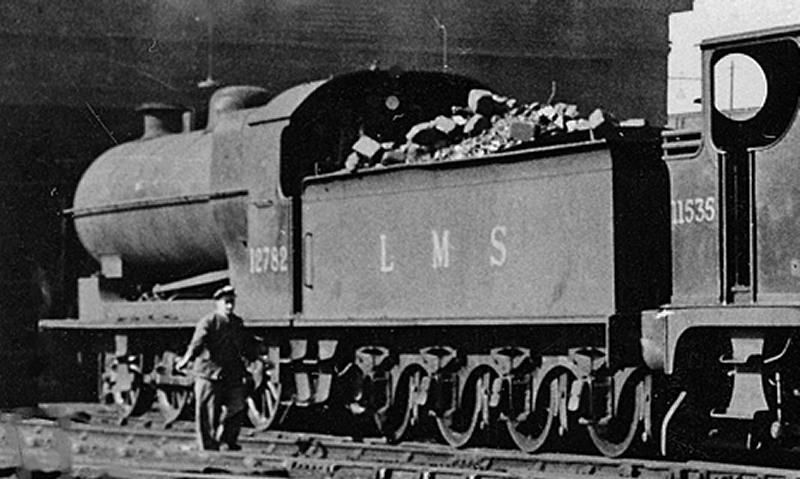 Copyright Ben Brooksbank and licensed for reuse under this Creative Commons Licence
A photograph in my collection of the loco at Wigan LYR shed (27D) shows that 12782 was renumbered in BR days with a smokebox numberplate centered on the door with the handrail above; a BR number on the cab side sheet and 'LMS' on the 8-wheel tender. As the cab is also correct, this is the target loco for the model. Another image in my collection taken in 1935 at Newton Heath shows that the loco then had a tender with the prominent original tool boxes. Finally, although the 1935 picture shows a 3-link coupling, Ben's 1948 photo shows a screw coupling.
The kit includes a L&YR 8-wheel tender, and provision for both cab types. The unopened box weights in at 25.2 ounces or 713 grams.
Livery is plain black with a number plate fitted, and the number on the cab side. The only 'unknown' is whether any of the tenders showed their new ownership. The surviving Hughes Dreadnaught received BR mixed traffic livery with 'BRITISH RAILWAYS' spelt out on the tender. However a photo from the Barry Lane collection in 'Steam Days' September 2012 shows 52857 at Wigan renumbered, but still with LMS on the tender. This is the most likely 'prototype' as it is the longest surviving and there is a good photo showing it 'broadside' in BR condition.
The reason for the early demise is not officially recorded, or rather the records have not yet emerged.
But what is clear is that their demise started immediately the independent history of the LYR ended. After that date the LNWR G1/G2 type seems to have been the favoured 0-8-0 type until the arrival of the Midland-derived G3 from Derby. Barry Lane records: "...but when the merger with the L&NWR took place in 1921, building stopped abruptly. In fact, No. 1648 entered service in January 1921 but the engine was largely completed before the turn of the year and in the paint shop when the merger took place on the first day of 1921".
Lane writes: "The class was popular with the crews and could haul anything that a loop or refuge siding could accommodate and their maximum loading on level track was 2,329 tons. They were even allowed to take 165 tons on the Werneth incline from Middleton Junction which was the steepest incline on the system at 1 in 27." If popular, why the rapid demise?
Bill Aves in his article in 'Steam Days' September 2012 writes: "The worldwide recession gathered pace in the 1920s, and coal exports from the United Kingdom declined, the General Strike made matters worse, and there can be no doubt there were surpluses in some categories of motor power." Aves notes that despite the early withdrawals three had been equipped with Dabeg feed-water heaters in the early LMS period.
Upgrades at Horwich also ceased and there were no more side-windowed cabs fitted. Once the LMS got underway with its new loco building programme in 1930, every time a G3 was put into traffic a Lanky type was withdrawn.
I am grateful to the steamlocomotive.com Website for drawing attention to Railway Engineer, Volume XXI, No. 9 (September 1900), p. 257 and the article "Eight-wheeled Coupled Goods Engines: Lancashire & Yorkshire Railway". The article places the design within its operating environment when considering its success, "The disadvantage of loading these large engines to their full hauling capacity on level sections is that such long heavy trains, uncontrolled by a continuous brake, tend rather to retard than to facilitate the general traffic. They have to approach signals very slowly, and backing into relief sidings causes great delay." The author noted the saving grace of the L & Y's siding layout -- "loops with points [switches] at each end."
Braking systems then in use limited the value of the great pulling power. One locomotive handled 98 empties and 2 brake vans from Goole and returned with 60 loaded wagons, he reports. But the usual train was just 27. "The length of the empty train could hardly have been less than 533 yds.," the author observes,"and the weight of the full train- is given at considerably over 1,000 tons. Such a train would be very unwieldy to manage with only the engine and van brakes, and if such trains become common they will have to be fitted with a continuous brake." This was certainly a problem with Gresley's P1 design, which was able to haul trains that exceeded the ability of the then infrastructure to handle, and therefore were withdrawn early.
Another coincidentally or contributory factor might have related to a decision that the LMS is known to have made. The LYR had seen the benefits for train working of continuous braking, and had embarked on a programme of fitting vacuum brakes to its freight stock. Sadly, it was the only LMS constituent that had started such a programme, and it was considered too expensive to extend the process to the rest of the system and the programme was terminated. This would have left the LMS with a loco with too much grunt for the typical unfitted freight trains of the day, and after 1923 no prospect of their being suitably braked trains to exploit their potential for many years. It was to be a further 60 years before unfitted wagons were finally eliminated.
The rapid demise of large freight loco classes is nothing new, and there are others that have had surprisingly short lives. One in living memory is BR;s 92220 'Evening Star', named on 18 March 1960 and withdrawn in 1965, when mechanically still very capable of further work. A working life shorter than any Lanky 0-8-0, and yet not related to its design.
Something desk research can fail to reveal is how locomotives built at the same time, in the same workshop and operated on the same railway (or even based at the same shed) can have dramatically different wear rates of mechanical components and boilers, leading to a radically different prognosis when mechanical overhaul falls due. As I write these notes on 9 April 2018, there is a steam locomotive whose boiler will still be warm from its last run prior to permanent withdrawal but its companion still has at least another 10-15 years of operation in its present form. Yet the latter has a boiler that entered service two years before the former. I am referring here to the Ffestiniog's 'Merddin Emrys' which was reboilered in 1969, and 'Earl of Merioneth' which entered service in 1971. In the Lanky scenario, any loco shedded at Goole would have suffered from the extremely poor water, so some of the fleet would have required reboilering at an early stage.
What perhaps is surprising is that this rapid demise took place under Hughes' direct supervision, who had been appointed as the LMS' Chief Mechanical Engineer, and was running things from Horwich. This seems to suggest that the designer himself was unhappy with the loco.
Curiously, in this regard E S Cox in 'Locomotive Panorama: Volume 1 page 24 writes of this period: "A number of steam types were fitted with an economical idea by which a single bake cylinder under the cab applied both engine and tender brake blocks. How the LNW worked unfitted freights at all was something of a mystery. There is a record of some tests carried out on the LYR under equal conditions of load, running down a 1 in 100 gradient at a speed of 20 mph. Horwich 0-8-0 No. 1369 stopped its train in 1,520 yards. From the same speed Crewe G2 class 0-8-0 No. 2182, also with vacuum brake on the engine, had accelerated to 22.5 mph after a distance of 3,860 yards under a full brake application, and the train had to be brought to rest by the intervention of another loco inserted in the make-up for just such an eventuality." Another test with steam brake only LNW G1 1585 was worse, and after 3,055 yards was bowling along at 25 mph. The brake power was noted to diminish when the whistle was blown, due to the fact that the supply for both came from a common manifold. And they scrapped the LYR locos first.
Mention should be made of the bearings. Lane is keen to point out that the Lanky provided perfectly adequate bearings for their locos, unlike the Midland, who continued to use small axle boxes in the G3 with consequent poor availability. Lane suggests the problems that the 0-8-0s related to a wedge used to take up slack in the bearings which was poorly understood by shed fitting staff, leading to boxes jamming in the horn guides. Aves also notes that: "Thd most serious and persistent problems arose because the frames used in the original Aspinall design had not been modified to take account of the extra weight of the later locomotives which at 66 tons 16 cwt were 13 tons heavier than the first 0-8-0s as built in 1900, accounting for prevalent driving axle-box fractures
Whatever the cause, there was a weakness that even in the early LMS scene, with its rag-bag collection of loco types, saw these locos marked for early replacement. The irony is that perhaps they were not allowed to operate alongside their replacement, before the new loco went into mass production. The conclusion has to be that the Lanky 0-8-0s had axle box issues, which it was hoped the G3 design would address, but in the event the G3 had bigger axle box problems!
Whatever, the arrival of large numbers of WD Austerity 2-8-0s after WW2 would have seen them off anyway: the WDs replacing their replacements. And comments on the WD Facebook group by ex-drivers and firemen suggest that despite their economic build and lack of thermal efficiency the WDs were well liked and easy to fire, so a worthy successor.
Bibliography:
'Lancashire & Yorkshire Railway Locomotives': Barry C Lane. Pendragon 2010. ISBN 978-1-8998-16-17-0
'Steam Days' magazine. September 2012 issue 277 'The Lancashire & Yorkshire Railway 0-8-0s': Bill Avery
'An Illustrated History of L.M.S. LOCOMTIVES' Volume 2: Absorbed Pre-Group Classes Western and Central Divisions': Bob Essery and David Jenkinson. Oxfrod Publishing Company 1985. ISBN 0-86093-264-8
'Model Railway Journal' Issue 74. 'L&Y Heavy Hauler' Jock Cockcroft
Posted 28 April 2015, updated 7 April 2018
<<< Restoration of a DJH WD 2-8-0